Wyverstone gun haul: James Arnold takes secret to his grave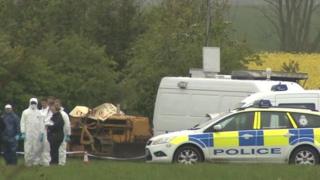 A quiet Suffolk village found itself at the centre of a major police investigation when a huge stash of weapons was found at the home of parish council chairman James Arnold. Now he has died, will anyone ever know why?
He was a prominent figure in the community and somehow managed to keep a secret which astounded his friends and the police.
But all of that changed when he was charged with possessing one of the biggest hauls of illegal weapons the country had ever seen - including firearms such as an Uzi sub machine gun and an AK-47 assault rifle.
Although he had yet to enter a plea in court he was being held on remand in Belmarsh Prison, in London, where he died on 14 July.
His arrest and the prospect of his trial had shocked the Suffolk village of Wyverstone, a small place which is home to about 400 people and where automatic sub machine guns are not the normal subject of conversation.
For instance, recent parish newsletters ran details of a campaign to raise £28,000 to repair the church roof and also announced the arrival of new litter bins in the village.
There were also details of a dispute over whether a cafe being run in the village hall had the right to use the word "community" in its title, with an anonymous complainant saying the benefit to the local population was debatable.
But on 27 March, Wyverstone changed.
Eddie Gale, 74, who lives about 500 yds from Mr Arnold's home, said it was a "total shock" to villagers.
He had sat on the parish council alongside Mr Arnold.
"A guy from the police said that if Jim had had a fire at his place, my house wouldn't be here now," he said.
"I knew Jim was into shooting, but it was normally clay pigeons rather than Uzis.
"He used to knock on the door and ask if it was all right for him to have a group at his place shooting.
"I didn't mind, it's the country. You expect to hear a bit of shooting."
Mr Gale described Mr Arnold as an "eccentric collector" who always had "bits and bobs" outside the front of his house, and in his garden.
He loved the village, knew all the residents and before becoming chairman of the council had volunteered "numerous hours" by running the bar at the village hall.
"His contribution to the village has been outstanding in the 10 years I've been here and I think it went on before I arrived on the scene," Mr Gale said.
In March 2013, Mr Arnold told Mr Gale that he had been diagnosed with terminal cancer and had been given about five months to live.
Mr Gale said he thought his neighbour had been "treated basically as a terrorist" since his arrest but thought he was nothing more than an "avid collector".
Andy Mellen, 47, who has taken over the post of chairman of the parish council and lived in the village for about seven years, said the police's six-week search of Mr Arnold's home and the surrounding area had a big impact on the village.
"There was a certain amount of shock because Jim was very well-known," Mr Mellen said. "People can't reconcile the Jim that we know from the community with the news we were getting of the finds at his place."
But Mr Mellen had been aware of Mr Arnold's interest in weapons.
"He was interested in clay pigeons and older style guns," he said.
"He was part of a gun club which used these antique weapons and dressed up in old soldiers' uniforms.
"That's within the bounds of normality, but obviously there was something behind that that we weren't aware of.
"It would be a shame if the full details of the finds are never disclosed, because doing so would lay to rest a lot of the rumours in the village."
Suffolk Police has said it is unable to provide more details as the investigation is ongoing and a 63-year-old man from Norfolk is still on bail, suspected of selling or transferring a firearm to a person without a certificate.
Mr Mellen said Mr Arnold had worked for an engineering firm in Stowmarket until he was given his terminal diagnosis.
"He was spending a lot of time getting treatment, going to hospital," he said. "People were aware he wasn't well at times, but he was still playing a pretty major part in village life when he was well enough."
He said villagers were "very grateful" for Mr Arnold's contribution to local life.
"This last episode is a shame, but it won't wipe out the memory of what he's done for the village," he said.
One person who has a better perspective than most as to what constitutes as "normal" in Wyverstone is 89-year-old Hubbie Leggett.
He says he is worried the affair will put people off living there in future.
"We do have the community cafe, which is great and is now the most important thing in the village.
"But what's happened recently has changed people's opinions of Wyverstone.
"The reputation has been a little bit tarnished. People will look before they leap to come here now."