Suffolk schools Raising the Bar programme sets targets amid 'cynicism'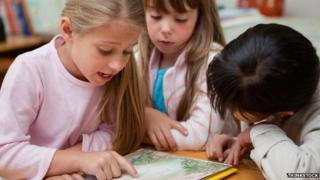 Efforts to improve standards in Suffolk schools are being hit by "cynicism" among some teachers, a report has said.
A county council report said it needs to increase the number of good or outstanding schools from 72% to 85% and improve exam performances.
The Raising The Bar programme was introduced because Suffolk was well below the national average in the performance tables.
The report also cites the need to improve communications with teachers.
Raising The Bar was introduced in 2012 to tackle poor performance after the local education authority was ranked in the bottom 10 for GCSE results and third bottom for primary school Key Stage 2 performance.
'No evidence'
The report said the aims of Raising the Bar were widely accepted, but "there is not sufficient buy-in to the programme... with at times strong criticism and cynicism".
Graham White, branch secretary for the National Union of Teachers in Suffolk, said: "The council is claiming that Raising The Bar has raised standards already, but there is no evidence that the results are down to Raising the Bar.
"So there is cynicism, but it doesn't mean teachers won't engage with the programme and we have accepted many parts of it."
A Suffolk County Council spokesman said: "The review was commissioned to take stock of what has been achieved and where we are at with this hugely complex and fast-evolving programme.
"We welcome the findings, which show that a significant amount has been achieved in the last year. We have already made changes to the work we are doing to reflect the findings."
The council's cabinet will consider the report on 10 June.