Ipswich Community Service Volunteers moves to old crown court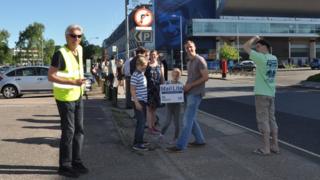 The former crown court building in Ipswich has been taken over by a community group.
The building on Civic Drive was vacated when the new crown court opened on Russell Road, and has since been used by the police.
The Community Service Volunteers (CSV) charity is moving there from its Media Clubhouse on Princes Street.
CSV, which has a five-year lease, said the courtrooms would become offices, training rooms and performance spaces.
Cad Taylor, creative co-ordinator at CSV, said: "Whilst we have incurred costs to prepare the building for our needs, we're looking at a more favourable rent and larger premises in a better location."
'Everyone wins'
The building is owned by Ipswich Borough Council and it is part of the larger Civic Drive site which remains available for redevelopment following the demolition of the council's Civic Centre tower block and the vacation of the police station.
David Ellesmere, Labour leader of the council said: "Everyone wins from this arrangement - CSV get a more affordable new home and the council doesn't have to pay to keep an empty building secure.
"Our ultimate aim is to redevelop the whole site, but we are committed to helping CSV find a long-term permanent base."
CSV's IO Ipswich Online radio station would have its studio in the courthouse.
The charity estimated about 300 people formed a symbolic human chain between the old and new buildings on Tuesday evening.