'Fast Eddie' Maher reward still unpaid after conviction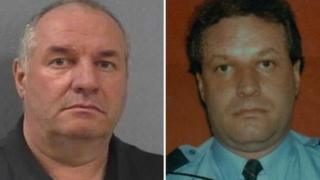 A woman who tipped off police about a fugitive who fled to the United States has still not received a reward, a year after he was jailed.
Eddie Maher, 58, was given a five-year prison sentence after he admitted stealing a security van holding £1.2m from Felixstowe, Suffolk, in 1993.
His ex-daughter-in-law, Jessica King, believes she is entitled to a £100,000 reward from security company G4S.
G4S said it was in discussions with Ms King's lawyers.
The company said although Maher had been found, the sum of money he stole from the Securicor van had not, and this "was the basis on which the reward was offered".
A spokeswoman said: "We are very grateful to Ms King for the information supplied to the authorities that led to Eddie Maher's arrest and subsequent conviction.
"As a result of Ms King's efforts in helping bring the culprit to justice, we remain in discussions with her legal team regarding this matter."
In March 2013, when Maher was jailed, G4S said it would be in touch with Ms King's legal team "in the near future".
Ms King and her lawyer, who are both in the United States, are yet to comment.
Maher, formerly of South Woodham Ferrers, Essex, was working as a guard when he stole the van from outside Lloyds Bank.
He spent 19 years on the run before he was captured in Missouri in February 2012.