Bury St Edmunds Picturehouse Cinema sold after competition ruling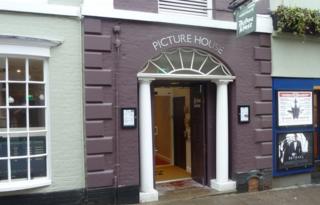 A Suffolk cinema has been bought by a new independent owner after a ruling that a national chain was not allowed to keep hold of it.
Cineworld bought the Picturehouse in Bury St Edmunds, but the government's Competition Commission ruled it was unfair to consumers.
It has now been bought by a new company called Abbeygate Cinemas Limited for an undisclosed fee.
The new owner was "confident" the Hatter Street venue could work.
Cineworld bought the Picturehouse chain of 21 cinemas in a £47.3m deal in December 2012.
Ordered to sell
It already ran Cineworld multiplexes in Bury St Edmunds, Cambridge and Aberdeen.
The Competition Commission investigated the acquisition and last year it said the chain must sell one of its venues in those towns, because otherwise it might restrict choice and increase prices for cinema-goers.
Tony Jones, a partner in what will now be called the Abbeygate Cinema in Bury St Edmunds, said: "It's a beautiful cinema that City Screen [the owners before Cineworld] spent a lot of money on and it was an offer I couldn't refuse.
"We want to get a few more people in there eating and drinking, we won't be playing the overtly commercial titles that are Cineworld's bread and butter and the cinema will extend its current programme.
"There's a great management team there and it will work really well - I'm confident it will."
Pat Church will remain as general manager at the Hatter Street venue where he has worked for almost 50 years.
"After months of hard work and uncertainty we can now forge ahead under the new and exciting independent name of Abbeygate Cinema," he said.
The Aberdeen Belmont Picturehouse was bought in April by the Centre for the Moving Image, while Cineworld had yet to decide whether to sell its Cambridge multiplex or its Arts Picturehouse, but it has to sell one of them.