World Cup: Wrong Phil Neville receives Twitter abuse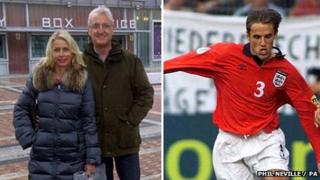 A radiator salesman called Phil Neville has received hundreds of abusive tweets intended for his footballing namesake.
Mr Neville, from Suffolk, was bombarded with Twitter messages to his account @philneville by fans who were unhappy with the ex-England star's World Cup TV commentary for the BBC on Saturday.
The former Manchester United utility player's punditry was widely criticised for being dully delivered and boring.
The other Phil Neville, aged 60, said he felt sorry for his famous namesake.
Mr Neville, from Hadleigh, said upon returning home from watching England's 2-1 defeat against Italy with friends, he noticed his phone was constantly buzzing.
'I hope you die'
The former referee, who was a fourth official during some Premier League games in the 1990s, said he was used to insults from football fans, but could not believe the content of some of the messages.
"Some were very abusive. One person said 'I hope you die'.
"Working in the sales industry, my name has been a benefit - people do remember me.
"With Twitter there are some real positives, but there are downsides - particularly if you're famous.
"Some comments were comical and I've seen the funny side, but there are some sad people out there."
Mr Neville said he would not be contacting the police over the messages, but had tweeted the former footballer to wish him "good luck".
The ex-Everton captain, who made his commentary debut for the BBC during the England game, tweeted: "1st live co-comm last night-sometimes u have to take the criticism - it will only make me better- thanks for the feedback(ahhahaha)!"
The BBC confirmed it had received 445 complaints about Neville's commentary on Saturday, but added he would continue to play "a key role throughout the tournament".