Suffolk village's tribute to crashed WW2 US airmen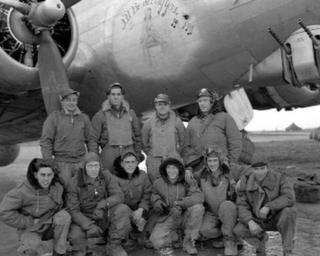 A Suffolk village has commemorated two separate World War Two plane crashes which killed 15 US airmen.
The ceremony was held on the 70th anniversary of a B-24 Liberator bomber crashing in Westhall, near Halesworth, on its return to nearby Holton airfield on 25 June 1944.
On 24 March 1945, a B-17 Flying Fortress, from Deenethorpe airfield in Northamptonshire, crashed nearby.
The plaques were unveiled outside the village hall.
Richard Pymar, chairman of the Halesworth (Holton) Airfield Memorial Museum, said: "It's important to remember the people where they fell, so that people in that parish realise the sacrifice these young men made.
"I'd already written two commemorative notices for the museum and local pub, but it's important to have something in a more focal point in the village and I'm delighted they're finally in place."
Dave White, a member of the Westhall Community Council which runs the village hall, said: "The crashes were taken quite hard by British and Americans and they were major incidents in the history of a small village like Westhall."
Both planes had crews of 10 on board - eight died from the B-24, while seven were killed on the B-17.
No civilians were killed in either crash.
Holton Airfield was used by the US from 1942-45, while Deenethorpe near Corby was operational between 1943-45.