Hollesley Bay prisoner caught with pet rabbit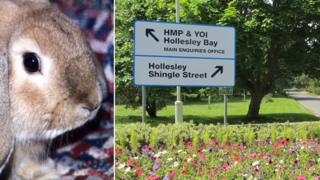 A prisoner has been caught keeping a pet rabbit at an open jail in Suffolk, the Prison Service has said.
Inmates at HMP Hollesley Bay, near Woodbridge, are believed to have found the animal while working outside the jail.
It was kept inside the prison but was discovered by officers.
A Prison Service spokesman said: "This prisoner has been disciplined and the animal immediately handed to a rescue centre."
The rabbit was thought to be a domestic pet, rather than a wild animal.
Inmates at the open jail are not allowed to keep pets.