Newmarket horse racing riled as homes backed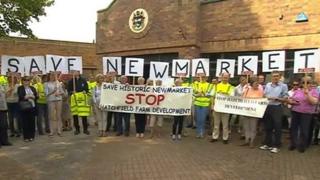 A 400-home development in a Suffolk town has been given the go-ahead despite opposition from some of the biggest names in horse racing.
Forest Heath District Council planners approved Newmarket's Hatchfield Farm scheme by 10 votes to five.
The government will have the final say over whether they can be built.
The racing industry feared Newmarket would lose its "village feel", potentially putting off overseas investors.
Newmarket is widely known as the home of horse racing, hosting some of the most successful stables in the sport.
The housing plans were put forward by landowner Lord Derby, who argued the town has always needed new homes.
His spokeswoman Rebekah Paczec said: "We're delighted with the results so far and are keen to work with the horse racing industry and the wider community taking it forward."
Hugh Anderson, managing director of the Godolphin stables, said: "We now rely on the secretary of state to take what we think is the correct view, that this industry is so important not just to Newmarket but the whole of the British economy and British sport, that he'll do the right thing and we will end up succeeding, and Lord Derby can build his houses somewhere else."