RSPB volunteers watch over Kessingland bird colony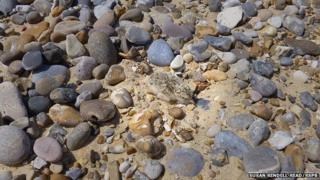 Volunteers and bird wardens are watching over a colony of little terns in Suffolk in an effort to ensure they breed successfully.
The RSPB is staffing Kessingland's shingle beach to record detailed data about the colony for the first time and ensure the birds are not disturbed.
Thirty-three nests, 50 birds and six chicks are currently on the site.
They are protected by an electric fence around the 7,500 sq m breeding ground.
Despite having 100 breeding pairs of little terns on the beach in 2013, no chicks survived to fledge the nests but wardens are unable to be sure what happened.
"We didn't have enough resources to monitor the site in detail and could only make checks every week or so," said RSPB warden Jesse Timberlake.
"It's most likely to have been a mix of predation by kestrels and other animals, the high tides and people disturbing the colony - we really don't know.
"That's why we're trying to record some really good baseline data this year, help educate visitors to the beach and learn what we can do to better protect them in the coming year."
East Anglia is a stronghold for the species, whose low numbers are a "conservation concern" for the RSPB.
The region holds more than 30% of the UK's breeding population during the summer months.
Mr Timberlake added: "Little terns face a number of threats from dogs, human disturbance and predators.
"Even toy kites, which can appear as large birds of prey, can cause these flighty birds to leave their nest and abandon their colony.
"This is a crucial time for them, so we are working hard to ensure that these birds have a fighting chance in 2014 and so far the signs are looking good."
The charity said the national population was low with 1,900 breeding pairs which meant the little tern was a species of "increasing national conservation concern".
The RSPB said three ring plover nests had also been found at Kessingland and eggs were expected to hatch soon.