Peasenhall Pea Festival creates 'Leaning Towers of Peasa'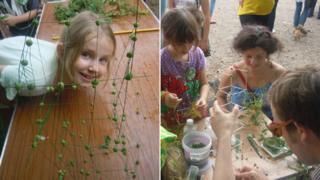 A series of "structural gems" were built in a new competition to create 'Leaning Towers of Peasa' using peas and cocktail sticks.
The towers were built at the annual Peasenhall Pea Festival in Suffolk.
Entrants were also allowed to use florist's wire. Katrine Suder's winning tower was 40.9in (104cm) high.
Organiser Lucy Mobbs said: "It was a children's event, but it became very competitive between the parents - particularly the daddies."
It was the seventh year the festival had been held.
Ms Mobbs said: "I'm an architect and I came up with the pun on Leaning Tower of Pisa first and the cocktail sticks and peas idea developed from there.
"Some real structural gems were created and we're definitely holding it again next year."
John O'Connor, chairman of the Peasenhall Assembly Hall, where the festival is held, said: "It added an opportunity for children and adults to do something creative with peas.
"This is a major pea-growing area and the festival continues to reflect its importance."