Wyverstone gun haul: Parish council chairman James Arnold dies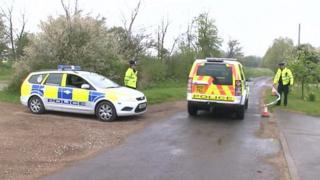 A parish council chairman who was charged after police found a haul of guns at his home has died in prison.
Officers found weapons including an AK-47 and an Uzi sub-machine gun at the home of James Arnold, at Wyverstone, Suffolk, after a search in April.
Suffolk Police said Mr Arnold, 49, of Potash Lane, died on 14 July. He was due to enter pleas to the charges at Ipswich Crown Court on Friday.
Prosecutors said the case against Mr Arnold has been discontinued.
Mr Arnold had been terminally ill with cancer, but a cause of death is not yet known.
He had been in custody since being charged on 19 April. He died at Belmarsh Prison in London.
Controlled explosions
Officers discovered the weapons during a search of a house while investigating assault allegations.
He was charged with being in possession of a self-loading rifle gun, a bolt-action shotgun, an Uzi and an AK-47 assault rifle, along with being accused of two assaults.
However, it is understood the amount of weapons seized by police ran into three figures.
A vast amount of ammunition was also found.
Andy Melley, vice chairman of Wyverstone Parish Council, said Mr Arnold's death was "sad for those who knew him and a tragedy for his family".
He said it was known Mr Arnold had a firearms licence, but the size of his collection was a shock to all.
Earlier in the month, police confirmed a 45-year-old woman arrested on suspicion of possession of a prohibited firearm had been released without charge.
A 63-year-old man from Norfolk, arrested on 16 July on suspicion of selling or transferring a firearm to a person without a certificate, has been bailed until 27 August.