Tory MP David Ruffley, cautioned for assault, referred to chief whip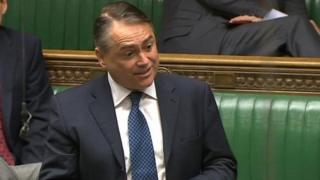 Conservative MP David Ruffley, who was cautioned for common assault on his ex-partner, has been referred to the government's chief whip.
Mr Ruffley was arrested and cautioned at an address in Marsham Court, Pimlico, London on 15 March.
Mr Ruffley, the MP for Bury St Edmunds, said he "deeply regrets" his actions and that his former partner had accepted an apology.
The Conservative Party asked Chief Whip Michael Gove to look into the case.
The Bury St Edmunds Conservative Association Executive said in a statement: "We welcome the statement by David Ruffley.
"Specifically, we note David's acceptance of his responsibilities, the issuance and acceptance of an apology and his expression of deep regret about the incident."
Last week it was revealed that the Dean of St Edmundsbury, the Very Revd Dr Frances Ward, had written to Mr Ruffley saying his position was "untenable" and reminding him of the "seriousness of the assault".
In the letter Dr Ward said she was a friend of the victim, and that when she met her a day or so after the assault, she "winced in obvious pain" when they hugged in greeting.
She said the victim told of "how frightened she had been of your [Mr Ruffley's] rage and violent behaviour".