Lowestoft Turtle Trail: Fibreglass animals aim to boost tourism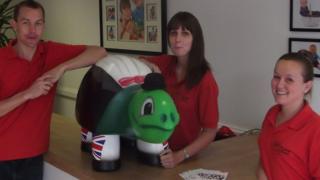 Fourteen giant fibreglass turtles have arrived in Lowestoft in an attempt to emulate a successful display of model gorillas in Norwich last year.
The metre-long artworks are part of a Turtle Trail through the town.
Lowestoft Vision, the town's Business Improvement District organisation, said they would attract visitors.
Manager Darren Newman said: "We want to make sure the shopping experience is up and part of that is putting on events and bringing people in."
Norwich's gorillas were placed outdoors throughout the city last summer and included "homages" to Alan Partridge and Freddie Mercury, although the Freddie one had to be repainted after a dispute with the late Queen singer's estate.
Lowestoft's turtles will be placed inside shops and public buildings and the have been painted to represent the town's connections with the sea and local organisations such as Lowestoft Town FC.
Mr Newman said: "It's simply a little bit of fun - there is a sea connection and they are easy to decorate."
There is a competition with a £500 prize for people who can find all the turtles and solve an anagram made up of letters on them.
The turtles will be in place until the end of August, but Lowestoft Vision has yet to decide what will happen to them after that.