Suffolk squirrel found 'nesting' on sheep is released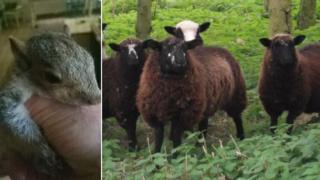 A baby squirrel, found "nesting" in the thick woollen fleece of a sheep in Suffolk, has been released back into the wild.
The squirrel was found in the neck area of a domesticated Herdwick sheep in Capel St Mary, near Ipswich, in April.
Staff at Wildlives rescue centre in Thorrington, near Colchester, looked after the squirrel and have released it back into the wild.
Centre owner Rosie Catford said after careful feeding, it was "fit and well".
The animal was found on a sheep at the home of Liz Dilworth and was believed to be about eight weeks old - the age youngsters are abandoned by their mothers to fend for themselves.
Ms Catford said: "It was fit and well enough after some syringe-feeding and we put it in a nest box outside and fed it with bits of fruit and nuts.
"It then started eating its normal varied diet, which includes insects, plant buds and acorns."
The centre said it had taken in about 25 squirrels so this year, which it had permission to release back into the wild.
The grey squirrel
Grey squirrels were introduced to Europe from the US in the late 1800s and are notorious for displacing native red squirrels
Bigger and bolder, they out-compete the native reds for food and can digest acorns, which the reds cannot
Greys also carry a pox virus that does not affect them - but is deadly to reds
Source: BBC Nature