Mildenhall treasure: 'Unusual' Anglo-Saxon buckle found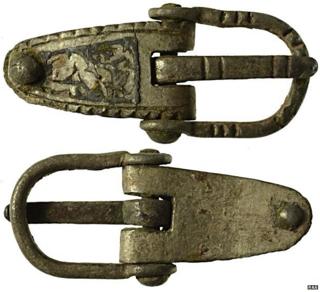 An archaeologist has hailed a 9th Century silver buckle discovered on farmland in Suffolk as a rare find.
The Anglo Saxon fastening, discovered by metal detecting near Mildenhall, features a Trewhiddle-style animal decoration.
Dr Helen Geake, from the Portable Antiquities Scheme, said: "It really is quite unusual.
"The costumes worn at this time don't appear to need buckles and so they are rarely found."
The 29.5mm (1.2in) buckle, featuring an animal with its head turned back to look over its body, was declared treasure at an inquest in Bury St Edmunds.
Dr Geake said the buckle was "too fine for horse harness".
"Other straps might include a sword harness, but on the whole it's a rather enigmatic item," she said.
A 22mm (0.9in) diameter medieval gold finger ring featuring a gem, found using a metal detector near Bury St Edmunds, was also declared treasure.
Andrew Brown, finds recording officer at Suffolk County Council, said: "Gold isn't hugely common in any period, but if you own an object of more value in this period it's like to be a finger ring, but we can't tell if it belonged to a man or a woman.
"We'd expect this to have belonged to a wealthier family, but just how wealthy is difficult to gauge from this single item."
The items will now enter the treasure process for valuation.