Ipswich Town v Norwich City: Pubs warned over derby trouble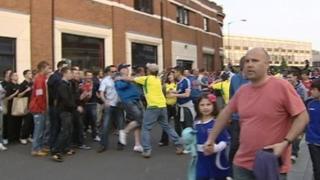 Police are warning pubs they could be shut down if they ignore advice to close their doors and trouble flares following a derby football match.
The letter to Ipswich publicans suggests they close for two hours after Saturday's match between Ipswich Town and Norwich City.
Suffolk Police said the warning was "proportionate".
But publican Gary Skeffington accused them of "panicking" and said they risked ruining "the spirit of the day".
Nineteen people were arrested the last time the fixture was played in 2011 on a Thursday evening.
The match kicks off at 12:15 BST at Portman Road, Ipswich.
'Tempt fate'
The letter said "senior officers... have been fully briefed regarding the powers at their disposal [under the Licensing Act]" and "you may wish to consider closing your venue for a period of two hours at the conclusion of the match".
It warned that if a venue was considered to be contributing to public disorder or noise disturbance, "drastic steps" could be taken, including issuing a closure notice.
Mr Skeffington, who runs PJ McGinty's in Northgate Street, said: "I was very disappointed - they're not giving the town a chance to get into the spirit of the day.
"A lot of that has to do with the police panicking about how they're going to maintain the place.
"Unless people come in blazing with colours, rowdy and drunk, I would be hard-pressed to turn people away."
The Cock & Pye pub said it would open at 10:00 BST to home supporters only.
Jason Murren, manager, said: "[The regulations] are not imposed, they are just suggested."
Insp Matt Rose said it was a "voluntary agreement".
"If there was disorder, people will be asking what did the police do beforehand," he said.
"If we have disorder, we may have to consider some of our powers under the Licensing Act and it's only right that we advise [publicans] of that so they can make an informed decision."