Greater Anglia disruption: Design faults in new signalling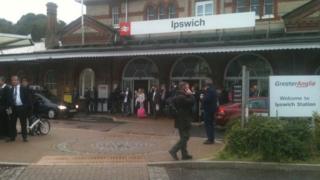 New signalling installed at Ipswich rail station as part of a £25m upgrade has been found to contain faults.
Signal installation overran on the Norwich to London line last weekend disrupting travel for thousands of Norfolk, Suffolk and Essex commuters.
Network Rail said a new team had been brought in after finding the faults.
Area director Steve Cassidy apologised for the disruption and inconvenience and said a decision on further work would be made on Friday.
He said: "Passengers suffered as a result of our mistake and I'd like to apologise to all those affected by Tuesday's engineering overrun.
"We have found fault with the original design of the new signalling system.
"A new team has now been brought in to oversee the design of the new system."
Replacing tracks
Further improvement work was planned for this Sunday and a decision will be made on Friday as to what, if any, of the work can proceed, he said.
Network Rail and Abellio Greater Anglia will also carry out a wider review of the entire upgrade programme, which will limit the risk of work overrunning in future.
Ipswich MP Ben Gummer called for resignations after mainline trains were cancelled throughout Monday morning.
Network Rail has been replacing 40-year-old tracks, recabling overhead lines, building sidings and installing new signals.