Scott Rogers murder: Evidence US TV host a 'paedophile'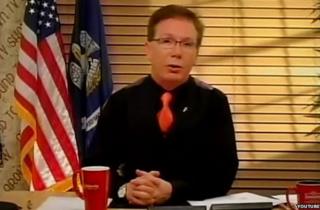 Evidence that a murdered US television host was a paedophile is "clear and overwhelming", an American prosecutor has said.
Scott Rogers, 52, a former dance academy teacher in Suffolk, was shot at his home in Iberville, Louisiana, last week.
Two British men have since come forward to allege abuse by Mr Rogers.
Tony Clayton, lead prosecutor, said there were claims of abuse in both the UK and the US.
"Absolutely the evidence is clear and overwhelming," he said.
"This investigation is going to be somewhat ongoing.
"We're going to follow the evidence and I want to protect anybody else out there who we may be talking to.
"For the life of me this is baffling that somebody is able to perpetuate his Neanderthal ways from Europe to the United States."
The two men spoke anonymously to the Jim Engster Radio Show on WRKF in Baton Rouge last week, alleging they were repeatedly sexually abused by the dance teacher as children.
Mr Rogers, a talkshow host on The Around the Town Show aired by WAFB-TV, was found dead in his bed on 27 August.
His lover Mathew Hodgkinson, who was married to Mr Rogers's daughter, is thought to have shot him in a "murder and attempted suicide".
Mr Hodgkinson, 36, is in a critical condition in hospital.
Computers and mobile phones have been seized from Mr Rogers's house as part of the investigation into his death.
AT THE SCENE FROM IBERVILLE by Ryan Naquin, WBRZ
Scott Rogers' days in Louisiana were not filled with controversy nor scandal. In Baton Rouge, he was known for his TV show and being a spokesman for philanthropic events for various causes.
When the news of his death came out, many contacted the station to say how sad of an event it was because they remembered him being a pillar of the community.
When the news of his scandal from 1990s England, and alleged sexual abuse became known, those people stopped contacting us.
Recently, the district attorney's office has dug deeper into Rogers' past and are starting to call his accused killer, Mathew Hodgkinson, a victim instead of a murderer.
Rogers' daughter, Kimmie, has not made herself available to the media and our countless attempts to speak with her.
Rogers was also the pastor of a church here in Baton Rouge, and investigators continue to look into the practices of that church to see if there is any history of abuse or wrongdoing.
Mr Rogers was shot on the day he was due to appear before a grand jury over allegations he falsified documents in fostering children.
It is alleged he failed to declare the fact he had previously been arrested in the UK, over offences of which he was later cleared.
He left the UK in the mid-1990s after founding a dance and performing arts academy in Bury St Edmunds, Suffolk.
In 1995, it was likened to a cult by Suffolk County Council.
Suffolk Police said its officers were liaising with American officials over the investigation that has followed Mr Rogers's death.