Ryan Jameson: Ex-Stowmarket Scouts helper jailed for abduction plan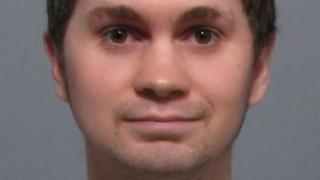 A 25-year-old man, who used to be a helper with the Scouts, has been jailed for four years for planning to abduct children and for possessing and distributing indecent images.
Ryan Jameson, of Hall Road, Stowmarket, Suffolk, had admitted the charges and breaching a Sexual Offences Prevention Order at an earlier hearing.
Ipswich Crown Court heard he had planned to tie up young boys.
He discussed the abduction plan in an internet chat room in 2013.
During sentencing, prosecuting counsel Lindsey Cox said Jameson had been convicted in 2011 of three charges of battery against 11-year-old boys who he tied up in woodland, blindfolded or bound to a tree.
Abduction chat
Police also found 52,000 images of bound children on a computer.
He knew the victims through his work as a helper with the Scouts, the court heard.
He had been given a five year Sexual Offences Prevention Order, which meant he was not supposed to use internet chat rooms or possess any images of children.
After a regular police visit to his home in June 2013, police found evidence of internet chat with an unidentified man called "Marmite" where they discussed abducting young boys.
They also found more indecent images and videos - some of which were particularly serious.
Jameson's counsel Steven Dyble said there was no evidence his client's fantasies would be made real.
Judge Rupert Overbury said Jameson would spend five years on licence after his release from jail and would be subject to an indefinite Sexual Offences Prevention Order.