Scott Rogers murder: TV host's 'killer' Mathew Hodgkinson dies in hospital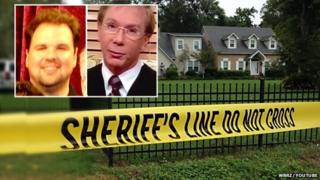 The man thought to have killed American TV host Scott Rogers has died in hospital after having the "plug pulled" on his life support, a sheriff said.
Police believe Mathew Hodgkinson, 36, shot Mr Rogers, his father-in-law and ex-lover, in their Louisiana home before turning the gun on himself.
Mr Rogers, 52, a former arts academy teacher in Suffolk, died in the "murder and attempted suicide" on 27 August.
Mr Hodgkinson survived and had been in hospital in an induced coma.
Asked about the circumstances of Mr Hodgkinson's death, just after midday on Friday, sheriff Brett Stassi told the BBC the "plug was pulled" on his life support. Deputies are now investigating who gave the instruction for the termination.
"[I] still have questions to be asked about the procedure that was done," he told WBRZ News 2.
AT THE SCENE
The death of Scott Rogers' accused killer, Mathew Hodgkinson, adds another twist to this ever evolving investigation.
The sheriff's office is looking into who made the call to take Hodgkinson off life support. That decision was made around 10:30 CST on Friday, Hodgkinson died around 12:45 CST, but authorities were not told Hodgkinson was taken off life support until two hours after his death.
Investigators believe Rogers' daughter, Kimmie, who is also Hodgkinson's wife, could have made the call to pull the plug.
The sheriff will find out who made the decision when they get the full autopsy results on Monday.
'Predatory paedophile'
Mr Rogers, host of the Around Town Show, was due to appear before a grand jury on the day he was killed. He is thought to have used "false" information by not declaring the fact he had been arrested when applying to become a foster parent in the US.
Allegations were then made by two British men that they had been abused by the TV anchor as young teenagers while attending his dance academy in Bury St Edmunds.
The abuse is alleged to have happened in the early 1990s.
He was described in an interview on WRKF as "a master manipulator" and "the worst predatory paedophile that you could imagine".
The Iberville Sheriff's Office have seized computers and mobile phones from the Rogers' house in St. Gabriel as part of their investigation into the "twists and turns" of his off-camera life.
"It was only before the continued custody hearing we heard for the first time why he left the UK," said Mr Stassi.
"We're examining his phone to see who he might have spoken to ahead of [the shooting] happening.
"If I was to run across any child pornography implications that lead me to believe others besides Rogers were involved I'd investigate - but I have not come across any evidence to indicate this at this stage."
Las Vegas wedding
Mr Hodgkinson, also a student at the former Academy of Dancing and Performing Arts, was married to Mr Rogers' daughter Kimmie.
"I've heard the wedding was in Las Vegas, but I'm awaiting information on this," said Mr Stassi, whose deputies have been searching for a wedding certificate since the shooting to confirm the relationship.
He said: "I know that Kimmie and Mathew weren't living together and that he was resident in the house with Rogers.
"I know that when she came to check on Mathew at the hospital she was in the company of her boyfriend.
"This case is like no other - there are so many twists and turns.
"What's brought us to this is the faulty paperwork, but it looks like he was continuing with what he was doing [in the UK] and that's what leaves a bad taste in people's mouths."
Reporter Ryan Naquin from WBRZ said deputies from Iberville, the parish where Mr Rogers lived, are currently awaiting autopsy results on Mr Hodgkinson before "closing the case".
Suffolk Police said on Friday it was looking into allegations of abuse by Mr Rogers after receiving "a handful of calls from people who have made initial allegations that they were sexually abused by him.
"Detectives will make further contact with these individuals in the next few days to ascertain whether they wish to disclose further information," said a spokesman.