Aldeburgh nature reserve becomes salt marsh after floods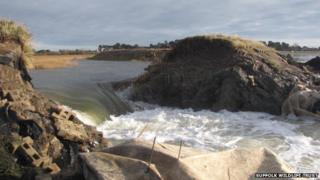 A Suffolk nature reserve flooded during December's tidal surge will be left as permanent salt marsh.
Suffolk Wildlife Trust, which owns Hazelwood Marshes near Aldeburgh, said it was "pragmatic" not to repair the river defences which were breached.
The trust says the marsh will flood during high tides on the River Alde.
An aerial survey will be carried out on the 160-acre (64 hectare) site so it can be re-landscaped with shallow areas for wading birds, such as avocet.
The tidal surge on the 5 and 6 December went over the sea wall and then created several breaches which flooded Hazelwood - an area which had been the site of an Anglo-Saxon archaeological dig earlier in the year.
'An opportunity'
Andrew Excell, the trust's southern reserves manager, said: "Looking at the costs and the ongoing maintenance, we've had all manner of discussions and in the end it does seem a far better solution to have an inter-tidal site which can develop salt marsh vegetation and build up a natural defence against flood waters.
"We've lost a lovely fresh water grazing marsh which is rare enough in itself, but salt marsh habitat is high on the conservation agenda so you can fight one battle or embrace an opportunity.
"Discussions about managed retreat had been ongoing, but they were 20 to 30 years away and the decision has been made early."
The trust said other river walls on the Alde and Ore estuary would probably need to be stabilised.