Woman hurt when car ends up on Ipswich church wall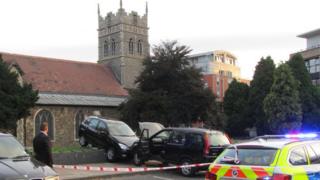 A car ended up on a church wall when a woman accidentally hit the accelerator and crashed while parking her vehicle.
She was trying to straighten her car while parking at St Nicholas Church in Ipswich when she "shot forward" into a stationary vehicle.
The woman seriously injured her leg and foot and was taken to hospital after the accident at 18:15 BST on Tuesday.
Freddy Ferguson, an insurance worker who was passing by, said it happened "out of the blue".
He was able to apply first aid to the woman until the emergency services arrived.
"I saw it happen as the lady was trying to straighten up while parking," he said.
"One of her legs was out of the car and I think somehow her other foot hit the accelerator and she shot forward hitting the other car at full speed.
"It was quite spectacular. The woman was clearly in shock.".