Noisy neighbours: Howling huskies and macaws next door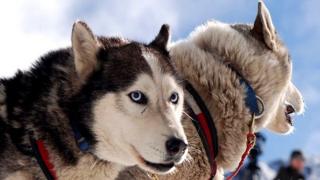 England counts itself as a nation of animal lovers but that love can be stretched to breaking point when animals make life a "living hell".
Sarah and William Griffiths moved to their "forever house" in the small Suffolk village of Battisford about eight years ago, for the "quiet life".
It has not quite worked out that way.
Five years ago, Peter Hammond moved in nearby. He breeds parrots and macaws and there are now about 200 birds living behind his home.
Mr Hammond, who declined to be interviewed, recently submitted a planning application for permission to use six agricultural buildings to keep birds and gun dogs.
Mrs Griffiths hopes permission will be refused.
"When we moved in, we said this was our forever house and now we call it a home from hell on occasions, purely because of the noise," said Mrs Griffiths.
"If they were to give permission, we would like to see them monitored very closely to make sure sound-proofing was put in and to allow local people to speak out if it became noisy again."
Other residents in Battisford claim the planning authority - Mid Suffolk District Council - has not done enough to deal with noise complaints.
It is a view shared by some of those living 18 miles away in the village of Gislingham.
Chris and Jane Wellstead have 12 huskies.
They said they were doing all they could to make sure the dogs "didn't make too much noise".
This has included changing feeding patterns in an attempt to "keep the disturbance to a minimum".
But this has not been enough, according to neighbours Chris and Julie Saunders, who have complained about the noise to the council.
"We've kept a log on a daily basis, recording every single instance it goes off," said Mr Saunders.
"They (the council) issued a statutory notice so they recognised it was an issue but now they say it has reduced sufficiently enough that it is not a problem."
Mid Suffolk District Council has written to Mr and Mrs Saunders to say the case has been closed.
The council said it had done all it could and the noise from howling huskies was neither frequent, loud nor continuous enough to be classed as a nuisance.
"Mid Suffolk District Council takes all complaints of alleged noise nuisance seriously and where evidence of excessive and unreasonable activities can be proved, we will take the appropriate action to resolve the matter," the authority said.
Noise and the law
Councils can help to deal with pollution that amounts to a 'statutory nuisance' under the Environmental Protection Act 1990
Statutory nuisances include smoke, fumes and gases, insects, light and noise
Mid Suffolk District Council says "what constitutes a statutory nuisance is not easily defined"
There is no noise limit set for domestic properties, as noise is a subjective assessment
The first action a council will usually take is to send an informal letter and start accruing evidence
The next stage is court, which can impose fines or confiscate equipment
So are the residents of Battisford and Gislingham making a mountain out of a husky hill?
Not according to independent acoustics consultant Clive Bentley.
"The levels we've measured on their own are not that different to the levels that you are currently experiencing from the natural birds," Mr Bentley told BBC Inside Out.
"But it is the character of the noise that makes the macaws stand out.
"In my opinion, although the noise levels are similar, they [macaws] are much more likely to be intrusive.
"From birth we are used to hearing birds singing, wood pigeons coo-ing and other sounds.
"But here in the UK, we are not used to hearing macaws or parrots making their noise.
"It is a screech sound, [like an] alarm sound, it makes you take notice."
The Saunders say they are not sure what to do next but are considering all their options.
Inside Out will be broadcast on Monday at 19:30 GMT on BBC One East and afterwards on iPlayer.