BT Adastral Park site signs £26m solar farm deal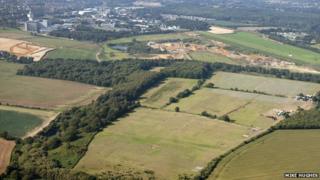 BT's research and innovation centre in Suffolk has signed a £26m deal to buy energy from a new solar farm being built nearby.
The 32,500-panel solar farm at Foxburrow Farm will sell all its electricity to the Adastral Park site at Martlesham Heath near Ipswich.
UK Sustainable Energy, which will run the solar farm, said it would provide about half the BT site's energy a year.
BT said it would get the rest of its electricity from the national grid.
Adastral Park was opened in 1969 on the former RAF Martlesham site and it has been involved in technological developments such as fibre optic cables.
BT said more than 60 technology companies are based at Adastral Park, employing about 4,000 people.
Planning permission for the solar farm was granted in 2013, despite objections from the Suffolk Preservation Society about the loss of agricultural land and the visual impact the panels could have in the open countryside.
Dr Tim Whitley, BT's head of research and managing director of Adastral Park said: "We have a responsibility to find innovative ways of reducing our environmental impact.
"The solar farm will supply up to 90% of site demand on sunny summer days."
The £26m deal will run for 20 years.
UK Sustainable Energy said it expected to have the solar farm at Brightwell producing electricity by October.
The farm site covers 40 acres (16 hectares).