Ipswich night shelter plans houses for homeless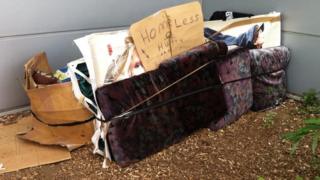 A charity says it is preparing to open its first houses for homeless people in a town where a "cardboard city" of dwellers has sprung up.
The Selig (Suffolk) Trust, which operates the winter night shelter in Ipswich, said it had been offered two houses which they could use.
The shelter had been used by about 30 rough-sleepers in previous years, with more being turned away.
The trust estimated the houses could be ready within a year.
Shelters made from cardboard boxes and sofas have appeared in front of the swimming pool, offices and former cinema on Crown Street and St Helen's Street this year.
Canon Paul Daltry, chairman of the Selig (Suffolk) Trust, said: "Many of us have seen the 'cardboard-city style homes' and we're aiming to create 'move-on homes' that would work in tandem with our night shelter.
"We have Christian landlords ready to provide two houses and we need to get the rest of the project together in terms of getting support to make the homes run properly.
"I'm thrilled as it's been an ambition since we set up the night shelter in 2011."
Andrew Cook, who runs the Go Manilla coffee shop in St Helen's Street, said: "Everything started to get a little rundown with street people congregating on the steps, drinking and using bad language which is not good for people using the town or mothers taking children to school."
The winter night shelter rotates between seven churches and has 12 beds during December, January and February.
The Ipswich Locality Homelessness Partnership, which represents 30 organisations dealing with homelessness, estimates there are currently up to 12 people sleeping rough in the town centre on any given night, but they are not necessarily the same people.
The new homes would offer places for about four people.