Orford quay people smuggling: Four Ukrainians jailed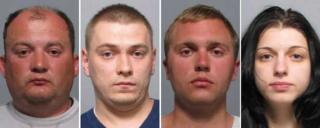 Four people have been jailed for their part in an operation to smuggle six Ukrainians into the UK via a Suffolk coastal village.
Immigration officers were waiting for them as they disembarked from a yacht at Orford quay in July.
Three men and a woman have been sentenced at Ipswich Crown Court.
They had been attempting to smuggle five men and a woman into the UK. The court heard the six people were sent back to Ukraine.
Phillip Holliday, Border Force regional director, said: "These smugglers thought that because they were operating at night and targeting a small quay their offences would go undetected. They were wrong."
The court heard Border Force officials had received information that illegal activity was taking place at the quay and the yacht arrived in the early hours of 3 July.
Oleg Bogdanov, 41, whose address was given as Ukraine, was the captain of the boat and admitted assisting unlawful immigration.
Oleksander Kozak, 25, of Middleton Street, Bethnal Green, London, admitted the same offence and possessing a false Polish driving licence. He was jailed for three years and four months.
Oleksii Pavliuchenko, 21, from Ukraine, was a deck hand on the boat and admitted people smuggling. He was jailed for two years and four months.
Tanya Boginska, 24, also of Middleton Street in London, was in the car with Kozak. She admitted possessing a false Lithuanian ID card and was jailed for one year.
The judge said the four defendants would also be deported when they were released from jail.