Suffolk police to cut 124 jobs to find savings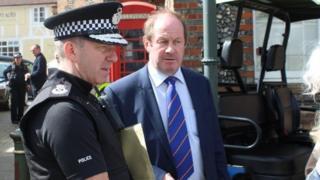 Suffolk Police is set to axe 124 jobs in a bid to save £16.4m by 2018.
The force, which rejected a plan to share a control room with Norfolk counterparts in April, said it had identified £10m of the savings.
Plans to cut 83 police officer posts, three community support officers and 38 staff will be discussed on 10 October.
Police and Crime Commissioner Tim Passmore said he accepted the financial challenge would mean fewer police officers and support staff.
The force, which employs about 1,200 officers and 913 staff, hopes to make further cuts through a review of operations and a continuing recruitment freeze.
It will also look to share more services with Norfolk Police.
Chief Constable Douglas Paxton said: "Our latest plans necessarily have to involve reductions in officer and staff numbers."
Mr Passmore said: "There will be fewer staff and fewer police officers in Suffolk; we just can't afford to keep officer numbers at the current level."