Ipswich 'cat killer' fear as 108 go missing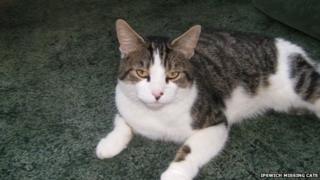 Cat owners in Suffolk fear someone is stealing or killing their pets after more than 100 have gone missing.
Deni Parkes set up an Ipswich Missing Cats group on Facebook after noticing how many people were talking about missing animals on social media.
"Within a week 108 people in the town reported missing cats. We think someone is taking them for baiting in dog fights or worse," she said.
Police have agreed to meet with the group to discuss their concerns.
Some of the cats have been missing for as long as six months, while others have disappeared more recently.
"Cats do go off for periods of time, but owners know their pets, and they know when something is out of character," Ms Parkes said.
"You don't just have 108 cats go missing - with no bodies turning up - especially as many of them are microchipped."
She said she hopes her Facebook group, which she set up last week, will become a focal point for pet owners, animal charities and the police.
Suffolk Police said they were "aware of allegedly stolen or mistreated cats in the Ipswich area".
"The matter is being looked into and officers will establish if any criminal offences have taken place, either a theft or cruelty to animals, with the assistance of the RSPCA," a spokesman said.
A PCSO has written to Ms Parkes offering to meet with her to discuss her concerns further.