Simon Warr sex abuse trial: BBC broadcaster and teacher 'touched boy in shower'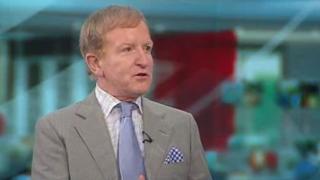 A teacher and BBC contributor accused of historical sex offences would watch boys while they showered and went on to sexually touch one, a court heard.
Simon Warr, 61, of Great West Road, Hounslow, denies seven offences relating to his time at two Suffolk boarding schools in the 1980s and 90s.
A former pupil said Mr Warr touched his genitals and buttocks in a shower.
He told Ipswich Crown Court Mr Warr told pupils he wanted to "check they were clean".
Mr Warr was a regular contributor to BBC Radio Suffolk and BBC Radio 2's Jeremy Vine show.
He also featured in Channel 4's reality show That'll Teach 'Em recreating a grammar school and was a contestant on Mastermind.
Andrew Thompson opened the prosecution's case by telling the jury the allegations had been made by two former pupils from St George's School in Great Finborough, near Stowmarket, and one boy who went to Royal Hospital School in Holbrook.
Mr Thompson said the case followed the conviction of former St George's headmaster Derek Slade, who was found guilty of 32 sex assaults against pupils in 2010.
Mr Warr was employed as a languages teacher at the school while Slade was in charge, the court heard.
Mr Thompson told the jury they would hear evidence from witnesses to an incident in Slade's office, during which he beat four pupils for misbehaving. Mr Warr was said to present in the office at the time.
The former pupil told the court Mr Warr was a "tyrant" who once punched him in the head for running in a corridor.
Another man told the jury he had been asked by Mr Warr to show him his bottom while in the shower.
Mr Warr later worked at the Royal Hospital School, and was still employed up until his arrest in 2012.
The allegations made against him there involved him pinching a male pupil's buttocks and trying to whip pupils' towels away when they were leaving the showers, Mr Thompson said.
Both witnesses were cross-examined by Mr Warr's defence barrister, Matthew Gowen, who accused them of failing to mention anything about Mr Warr's conduct when questioned by police during inquiries about Slade.
The trial continues.