Ipswich Christmas lights to be switched on 'in daylight'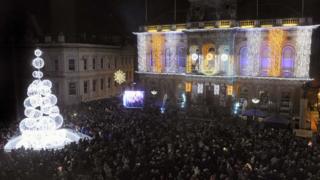 A plan to switch on Ipswich's Christmas lights during the daytime has been criticised by the town's MP.
Ben Gummer, Conservative MP for Ipswich, said: "Only in Ipswich could we have an alternative where you have a lights switch-on in broad daylight."
The town is hosting a day of events on Sunday, 16 November in favour of a traditional night-time illumination.
The council said traders did not want to pay for an event which usually takes place after their shops closed.
In recent years, the grand switching-on ceremony has taken place in the early evening before a crowd of thousands of people on the Cornhill.
'Scrooge-like'
Mr Gummer, MP for Ipswich, said: "The bill was being sent to Ipswich businesses and they said, as it happened after-hours, then they didn't see it providing any commercial advantage to them.
"It is a civic moment when everyone gets excited and I think they're being a bit Scrooge-like."
The lights will be switched on from the Mayor's Parlour inside the town hall before 10:00 GMT followed by street fairs and entertainment.
Max Stocker, a spokesman for the Labour-run Ipswich Borough Council, said: "The set-piece countdown event has always attracted people, but over the last few years we've had to turn people away as there's limited space.
"This year, we thought we'd put on a full day's entertainment and have the lights twinkling from early morning, so you can spread your day and have more fun throughout."
George Debman, a Conservative councillor who runs a butcher's shop outside the town centre, said: "It's important to have a grand switch-on which creates the festive spirit.
"But it should take place on a midweek evening, in the dark, when there is late-night shopping."
Ipswich Central, which represents town centre shops and businesses, was not available for comment.