U-turn over Ipswich Christmas lights daytime switch on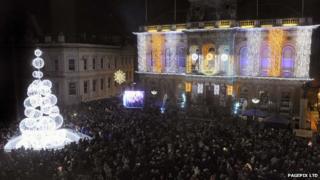 Ipswich's Christmas lights will be switched on at night after a plan for a daytime unveiling was called "stupid" and "Scrooge-like".
The borough council said previous night-time events at the Cornhill had been a "victim of their own success" and suggested a 10:00 GMT switch on.
But it was met with widespread criticism, including from Ipswich Conservative MP Ben Gummer.
The council said the switch on will now take place at 17:00 on 16 November.
David Ellesmere, leader of the Labour-run Ipswich Borough Council, said: "We listened to traders and Ipswich Central, who said they wanted us to focus on providing cheap travel offers instead of doing a switch on.
"We've decided that was the wrong decision."
The council previously said that traders did not want to pay for an event which usually takes place after their shops closed, so suggested an all-day event with cheap bus offers to help people get to the town centre.
People commented on BBC Look East's Facebook page, saying the idea was a "joke" and "typical Suffolk".
Mr Ellesmere said of the revised plans: "It's not going to be the all singing, all dancing switch on that we've had in the past.
"What we're going to have is the focus on a full day of activities in the town centre.
"As a fitting finale to the day, we'll have the mayor in the town hall switching on the Christmas lights."
Paul Clement, executive director of Ipswich Central, which represents town centre shops and businesses, said: "I think it is good news for the people of Ipswich."