Simon Warr cleared of sexual abuse at Suffolk boarding schools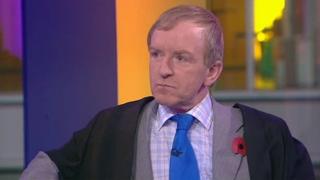 A teacher and BBC contributor has been cleared of sex offences at schools in the 1980s and 90s.
Simon Warr, 61, said he lost his job, friends and home after being accused of offences at two boarding schools.
A jury at Ipswich Crown Court acquitted him after deliberating for less than 40 minutes.
"My reputation is intact," Mr Warr said after the trial. "I feel totally relieved, it's a great feeling."
The allegations related to two former pupils of St George's School, near Stowmarket, and a former pupil of Royal Hospital School, Holbrook.
The court heard how Mr Warr, from Hounslow in west London, was alleged to have watched boys in the showers after PE lessons and went on to touch one.
Mr Warr told the court the claims were "malicious lies".
Several character witnesses paid tribute to Mr Warr on the penultimate day of the seven-day trial, saying he was "flamboyant", "inspirational" and "one of the most popular teachers at school".
Mr Warr said his life had been put on hold since he was arrested in 2012, when he was teaching at the Royal Hospital School and living on site.
"I counted it as 650 days," he said. "It's hard because I lost my home, I lost my community at the Royal Hospital School, which I loved, I lost my job, my friends, my job at Radio Suffolk, and of course I lost my reputation.
"I can go back to teaching, but I don't want to. I was thinking of retiring anyway."
Mr Warr was a regular contributor to BBC Radio Suffolk and BBC Radio 2's Jeremy Vine show.
He also appeared on television programmes including The One Show and Channel 4 reality show, That'll Teach 'Em.
The Royal Hospital School, where Mr Warr worked until he was arrested, said he had resigned last year and would not be returning.
"The welfare of the pupils in our care is the Royal Hospital School's overriding priority," it said in a statement.
"We worked very closely with all the authorities during the lengthy investigations."
A spokesman for the BBC said: "Simon Warr is not under contract with the BBC."