Seventy firefighters tackle Hadleigh chemical warehouse blaze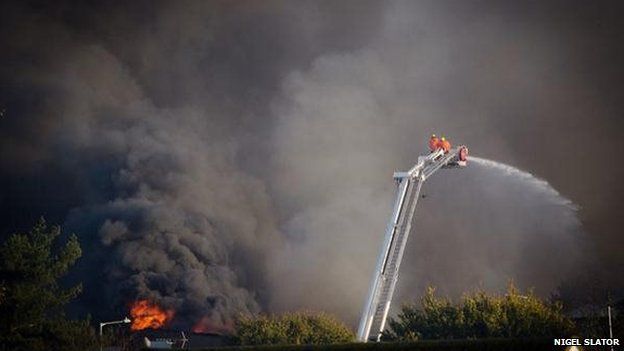 A fire has ripped through a warehouse containing household chemicals on an industrial estate in Suffolk.
A Suffolk Police spokeswoman said the force was called to the Lady Lane industrial estate in Hadleigh at 05:50 GMT. At its height, 70 firefighters were in attendance.
Earlier advice about keeping windows closed because of chemical smoke has been withdrawn, the spokeswoman said.
An investigation has been started to find out what caused the blaze.
One of the warehouses which was alight, owned by a company called Challs International, contained household cleaning products.
Members of the public were asked to stay away from the industrial estate, which was closed off.
Graham Burchell, managing director of Challs International, told BBC Radio Suffolk it was "too early to assess the damage".
But he said the fire, which affected one of the company production units, was very serious.
"Bad is an understatement," he said.
Area commander Ian Bowell, from Suffolk Fire and Rescue, said crews used trucks to remove "several tonnes" of chemicals from one of the warehouses, where the fire is now under control.
He said a fire in another building, containing packaging, was still burning.
One adjacent property on the industrial estate had to be evacuated.
"I would expect to have crews here for most of the day," Mr Bowell told BBC Radio Suffolk. But he said he expected to gradually reduce the number of firefighters on site.
Related Internet Links
The BBC is not responsible for the content of external sites.