Giant poppy in Eye field pays tribute to US servicemen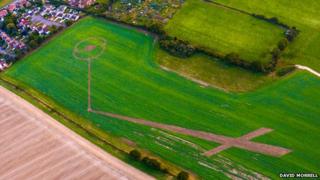 A 250m-long poppy has been created in a field in Suffolk in tribute to US servicemen who lost their lives in World War Two.
The field artwork is a recreation of an existing design of a poppy casting a shadow resembling a cross.
Carlo Roberts, who helped with the project, said a tractor was used to "scratch" the design into a "beautiful green carpet" of rape plants.
He said 184 men lost their lives while based at the nearby Eye Airfield.
As well as being a personal tribute from those involved in the project, Mr Roberts said the artwork would raise awareness of a fundraising appeal for a memorial to the servicemen.
The 490th Bomber Memorial Project has raised £6,719 of the £15,000 needed to build a permanent memorial to the north of Eye.
"Americans have come here looking to pay tribute to their forbearers and haven't found anything," Mr Roberts said.
Farm worker Stefan Fulcher helped with the design of the field artwork.
The outline was marked out with bamboo stakes before Mr Fulcher completed the work on his tractor.
"I thought it was a very ambitious design," Mr Roberts said. "Fineries with a tractor are really difficult, as the tyres leave marks easily.
"I am pleased with the outcome."
The pair had also worked together in 2012 to create field artwork in Eye to celebrate the London Olympics.