Derek Cable: Sex abuser hid behind band leader image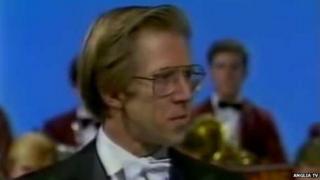 For more than 30 years, Derek Cable hid behind the respectable image as the leader of a schools' concert band he founded and took around the world. But behind this facade was a "manipulative" paedophile who abused young boys.
Cable, 74, of Albany Court, Hastings in Sussex, has been jailed for five years for three indecent assaults on a boy who was 11 years old when the abuse took place in 1975 and 1976.
The victim, who is now 50 and gave evidence at Cable's trial at Ipswich Crown Court, talked of having one-to-one lunchtime trombone lessons at Stowmarket Middle School, in Suffolk.
While the pair were alone, Cable groped him and went on to make the boy perform a sex act on him.
It was not an isolated case for the teacher.
In 2003, Cable was jailed for four years for indecent assaults against five boys, aged between 10 and 14, in the 1970s and early 1980s.
After the latest trial, Kathy Yates, the 50-year-old victim's solicitor, said: "The damage he has done to his victims will never leave them - things like problems with relationships and a lack of trust in authority figures which creates difficulties in holding down jobs.
"He seems to have been a particularly manipulative person who could be very charming and plausible while hiding his activities behind his public image as a very successful music teacher and leader of an internationally recognised brass band."
Ms Yates said her client had had a "very disadvantaged childhood" and used his love of music as an "escape".
"When the abuse started he was in a complete dilemma of whether to carry on with his music and put up with the abuse - or avoid the abuse by giving up his only real passion in life," she said.
In 2013, 10 former members of the band received a share of £210,000 compensation for alleged abuse at the hands of Cable.
Suffolk County Council paid the money, but said it was not an admission of liability.
One of the 10 claimants, who is now 45 years old and wants to remain anonymous, said he had a "very scary experience" when staying at Cable's house in Rattlesden, near Stowmarket, when he was 14 years old.
He had been due to spend a month there while his parents were away and said that when he got to the house, Cable said: "Right, we don't wear clothes in this house."
Cable asked him to take his clothes off, removed his own and the pair went about the house naked.
Teacher's 'lair'
The boy managed to get out of the house the following night and said he was not sexually assaulted or touched by Cable.
"I just felt very uncomfortable," he said. "But because he had that authority over me, I just did what he said.
"It was a very scary experience and certainly left an impression on me.
"It's ruined my life - for over 20 years I was coping with flashbacks and it's still there, but it doesn't bother me quite so much now because I've had hypnotherapy."
Cable was employed as a full-time music teacher at Stowmarket Middle School and ran four bands for pupils of varying abilities there.
The man said Cable had a room at the school, a "lair" where he would take boys.
"Children used to call him names behind his back such as 'Bender Barney'," he said.
Cable founded the Stowmarket Schools Concert Band (SSCB) in 1961.
From 1971, it started performing across Europe, in the Far East, the United States and Canada.
Since Cable's departure it has opened up to people of all ages and is now simply the Stowmarket Concert Band.