Mid Suffolk District Council spent £500,000 on SnOasis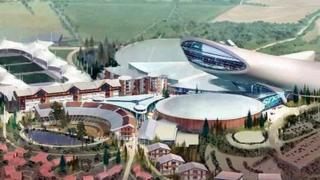 A council has spent £500,000 on an indoor ski centre which it now concedes will probably never be built.
Mid Suffolk District Council granted planning permission for the £300m SnOasis in 2008, but work on the Great Blakenham site has yet to begin.
Derrick Haley, Conservative leader of the council, said: "I'd be very surprised if the ski thing ever came to fruition."
But the man behind SnOasis said he had not given up on the project.
Godfrey Spanner was director of developer Onslow Suffolk until he was made bankrupt, but continues as an adviser.
He said: "I have worked on this for 14 years and I continue to do so. [It] won't get away from me that easily."
When the project was first put forward in 2004, it was claimed SnOasis would be open by 2007.
The design included a 415m ski slope, chalets, ice skating rinks and toboggan runs. It was claimed it would generate 3,000 jobs.
Houses, a school and a railway station were also to be built.
But with planning consent due to expire in October 2016, people are sceptical that SnOasis will ever become a reality.
Suffolk county councillor John Field, Liberal Democrats, said he had his "doubts" the project would ever raise the money required.
"It's unlikely finances will ever be forthcoming," he said.
"But it's not impossible that someone in the world sees it as a good proposition."