Barn owls: Suffolk has record number of chicks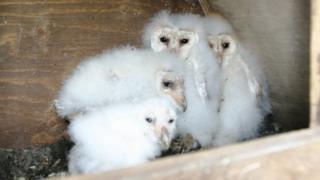 A record number of barn owl chicks has been recorded in Suffolk this year after a "disastrous" 2013.
The Suffolk Community Barn Owl Project managed to ring 106 chicks last year.
This year it has tagged 862 youngsters from the 1,700 nesting boxes installed and registered with the project around the county.
Steve Piotrowski, project manager, said: "It's been an amazing turnaround - nature is remarkable in that it often stages dramatic recoveries."
Since the project started in 2005, the most chicks recorded was 590 in 2012, but an extended cold spell cut that by more than 80% the following year.
About 20 birds were found to be dying each day last year because their preferred prey, the short-tailed vole, was not breeding in the cold.
Mr Piotrowski said: "Barn owls are known as the farmer's friend and important because they keep the rodent population down.
"This year our barn owls have demonstrated their resilience to the extremes of our weather."
---
Barn owls
There about 4,000 breeding pairs in the UK
They nest in holes in trees, barns and outbuildings, cliffs, former mines and quarries
75% of young die in their first year
Adult pairs can produce two batches of eggs a year
Juveniles fly at 50-55 days
Owls remain in territories which have a border, or edge, of 12-15 miles (20-25km)
They can hunt using only their hearing
Source: RSPB
---
The project's partners include the Suffolk Wildlife Trust, British Trust for Ornithology, Suffolk Ornithologists' Group, Stour Valley Project and Dedham Vale Area of Outstanding Natural Beauty.