Sharon Nobinger given driving ban after biker Adrian Klein's death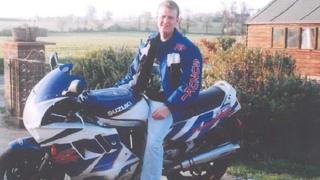 A woman has been banned from driving for three years after a crash in which a biker died.
Sharon Nobinger, 44, of Mayflower Avenue in Saxmundham, Suffolk, admitted causing death by careless driving at Lowestoft Magistrates' Court.
Motorcyclist Adrian Klein, 39, from Yoxford, was killed on 26 March on the A12 at Carlton and Nobinger was arrested at the scene.
She was also given 200 hours community service and told to pay £105 in costs.
Sgt Bob Patterson, from Suffolk Police, said: "This was a tragic incident where a man lost his life.
"Sharon Nobinger had been pulling out of a junction onto the A12 at Carlton in her car when she was in collision with the motorcycle being ridden by Adrian Klein.
"This case highlights the need to reiterate the message to all motorists to 'think bike' when they are driving on the county's roads."