Brian Callaghan and Diane Foster jailed for sex offences against children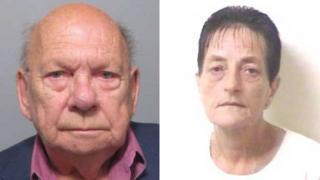 A couple from Ipswich have been jailed for sex offences against children, described by a judge as taking "cruelty to a level of unimaginable, terrifying horror".
Brian Callaghan, 79, of Waterford Road, was jailed for 24 years for a variety of offences including rape.
Diane Foster, 56, of Downside Close, was jailed for 11 years for offences including aiding and abetting rape.
Ipswich Crown Court heard the offences took place between 1974 and 1991.
Callaghan's crimes were committed in Preston, Lancashire, and later in Ipswich and included the rape of children of primary school age.
He pleaded guilty to a total of 19 offences, which took place over 17 years.
'Degenerate' fantasies
The court heard he left Preston for Ipswich and met Foster while working as a door-to-door salesman.
During her trial last month, Foster was found guilty of three offences, carried out alongside Callaghan, which took place on one night in the 1980s.
Judge Rupert Overbury told Callaghan: "You are a perverted sexual predator who enjoyed [abusing children] in a multitude of ways and to a number of degrading levels ... no doubt to satisfy your degenerate sexual fantasies."
He said the victims were haunted by the memories, had suffered psychologically and had received professional help to deal with "ongoing trauma".
Foster was described as a "willing participant" in Callaghan's activities in Ipswich.
The judge said: "You are a cold-hearted woman, lacking any moral fibre and displaying no remorse for those children you were content to abuse so cruelly."
Det Ch Insp Tonya Antonis, from Suffolk Police, said: "The crimes committed by both Callaghan and Foster were abhorrent.
"We wonder if they have ever stopped to think about the damage they have done to the children while they sought sexual gratification or how their lives will probably be scarred forever."