Environment Agency issues 15 flood warnings for east of England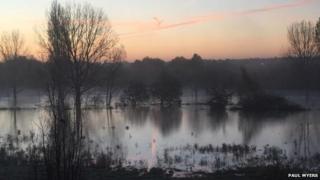 Fifteen flood warnings have been issued across the east of England, due to heavy rain.
The Environment Agency put warnings in place around rivers in Cambridgeshire, Essex and Suffolk.
Warnings are given when flooding is expected and "immediate action" is required.
Essex Fire and Rescue Service said motorists were driving through flooded roads "despite repeated warnings". The county has seven warnings.
A spokesman said drivers should only call the the fire service "in a real emergency... where there is life risk".
"People continue to dial in for all kinds of assistance more suited to roadside recovery or plumbers," he said.
The fire service in Suffolk, where there are seven warnings in force, said it had responded to eight flood related incidents, mainly to calls of vehicles stuck in flood water.
Suffolk County Council chairman, Christopher Hudson, said £500,000 was being made available to help clear drains affected by flooding in problem areas such as Kesgrave.
In Cambridgeshire, flood warnings are in place along the River Granta from Linton to Babraham.
The A412 Bridge Road in Ely was closed as the underpass near the station flooded. Drivers had to use the Station Road overpass.
In Essex, warnings are in place along the River Wid, the Rover Brain, the River Mardyke and the River Colne.
The River Chelmer is affected from Great Dunmow to the Rivermead campus and industrial estate, as well as riverside properties in Chelmsford, including the cricket ground.
In Suffolk, warnings have been issued for the Chediston watercourse at Halesworth, the Rattlesden River, Stour Brook and the Bumpstead Brook.
There are also flood warnings on the River Kennett, the River Box the River Brett from Lavenham to Higham and the River Lark.