Ipswich Hospital's Macmillan cancer centre £3.7m target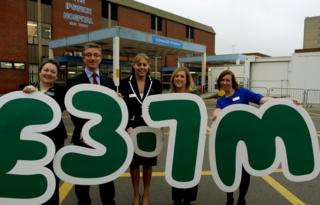 Ipswich Hospital has set up a charity appeal to build a new £4.7m cancer centre which it said would be able to double the number of patients treated.
The hospital has £1m set aside and but needs £3.7m more to expand services.
It said it would be able to treat 30 chemotherapy patients at a time, rather than the current figure of 12.
Almost 21,000 cancer patients could then be treated every year following the opening of the new Woolverstone Macmillan Centre.
'Biggest request ever made'
The hospital said its current facilities were cramped, did not always provide privacy and patients sometimes had to be treated at other hospitals during busy periods.
Cheryl Thayer, operational co-ordinator for oncology and haematology at Ipswich Hospital's existing Woolverstone wing, said: "We have recently started to work on Saturdays to accommodate the patients, because we just haven't got the facilities and the room Monday to Friday.
"It's not about the treatments - these nurses are second to none - it is purely about the fact that we have outgrown it and it isn't fit for purpose any more."
The hospital's ongoing Woolverstone Wish Appeal charity had already committed £770,000 to the project, while a further £250,000 has been pledged by the Ipswich Hospital Charitable Trust.
Gwyneth Tyler, senior development manager for Macmillan Macmillan Cancer Support who is in charge of the fundraising, said: "It's the biggest request that Macmillan has ever made for a building.
"By 2030, there are going to to be 57,000 people with cancer in Suffolk - it's huge."
Jan Ingle, spokeswoman for Ipswich Hospital, said: "We don't have an unlimited pot of money.
"We are meeting the national access standards for cancer treatment and this new centre is all about making a clinically excellent centre into a beautiful environment."