Ipswich crowds cheer Royal Navy HMS Quorn freedom march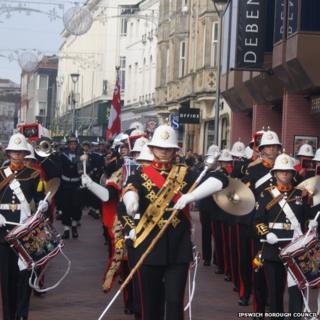 About 2,000 people turned out to cheer members of the Royal Navy as they marched through a town in Suffolk.
The ship's company of Royal Navy minesweeper HMS Quorn was granted the Freedom of Entry to the Borough of Ipswich in 2011.
The warship is affiliated to the town and its crew and commanding officer exercised their right to march through its streets earlier.
They were led by the Band of Her Majesty's Royal Marines.
Ipswich mayor Bill Quinton, welcomed Lt Cdr Stuart Yates to the Cornhill and then inspected the crew prior to the march.
The freedom march was the culmination of a five-day visit to Ipswich by HMS Quorn.
The ship is a 685-tonne Hunt class mine countermeasures vessel with a crew of 45 and is based at Portsmouth.