Lee Weavers: Ipswich ex-police officer admits truncheon possession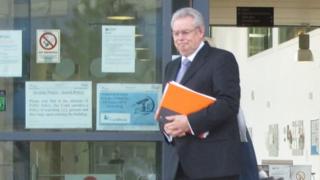 An ex-senior Essex police officer who was accused of assaulting a neighbour, has admitted keeping a truncheon.
Lee Weavers, 61, a former assistant chief constable, had denied assault and possessing an offensive weapon, at a trial in 2013, which was abandoned.
Weavers, of Coprolite Street, Ipswich, has now admitted the possession charge, but the assault offence will "lie on file".
His 2013 trial at Ipswich Crown Court heard a row broke out over a party.
The court was told Weavers had left his flat overlooking Neptune Marina and gone round to 28-year-old Ben Jarrett's home on Duke Street, early in the evening on 11 August 2012, where allegedly loud music was being played.
'Mental health problems'
CCTV footage showed Weavers leaving the lobby of his block of flats with the baton and returning seven minutes later, the jury heard.
In between times, a scuffle took place and both men ended up with minor injuries.
But, the jury was later discharged because Weavers, who was also a former head of CID in Essex, suffered health problems while the trial was in progress.
Weavers has now appeared again at Ipswich Crown Court to admit to possession of an offensive weapon - described by the prosecution as a "police-style truncheon".
Anne Hamilton-Smith, for the defence, said Weavers had been "suffering from mental health problems" and may have been at the time of the original incident.
The decision to let the assault charge lie on file was made by the Crown Prosecution Service (CPS), following a review of "medical evidence relating to the defendant".
David Taylor, reviewing lawyer for the CPS, said: "Possession of an offensive weapon in a public place is a serious offence and we are satisfied that a conviction for such an offence provides the judge with sufficient sentencing powers."
Weavers was released on bail and is due to be sentenced on 8 January.