Framlingham homes advent calendar created in Double Street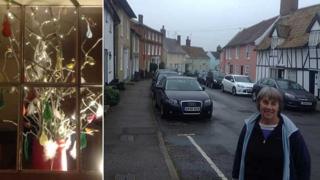 Residents of one street in Suffolk have used the windows on their houses to create a giant advent calendar.
Nineteen houses have created 24 displays on Double Street, Framlingham.
The project has been raising money for the Crisis At Christmas charity for homeless people.
Gill Knights, one of the organisers, said: "It's gone really well, no-one's needed to be reminded, fussed about which day they've got - they've just gone and done it."
The organisers said £60 had been raised for the charity.
"Some people were hesitant as they were worried about what was required, but became more confident when they realised they just needed to put some decorations up, ideally with lights," said Ms Knights.
"All the windows are close together and it is a lovely curved street with many different styles of houses - ours being the newest having been built in 1912.
"Somebody did say how lovely it was, because we talk to each other a lot more."