Council legal threat after 30mph wheelie bin sticker row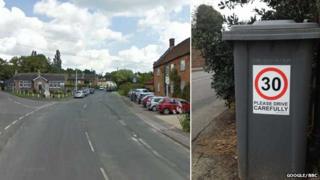 Householders have been threatened with legal action after 30mph speed limit stickers appeared on roadside wheelie bins in a Suffolk village.
The stickers were issued as part of an anti-speeding campaign in Westleton.
Suffolk Coastal District Council said they were unattractive and may encourage people to leave bins out.
Robert MacGibbon, householder, said: "It would be ridiculous if I was taken to court when we're trying to slow the traffic down."
The stickers are similar to the official road signs but have the phrase "please drive carefully" written underneath.
Councillor Andrew Nunn, Suffolk Coastal council's green environment chief, said: "Although we want to keep stickers off bins, because it disfigures them and makes them look unattractive - especially if they start to peel off, we do not have the power to stop people putting stickers on their bins.
"There is a concern that putting the stickers on the bins could encourage people to leave them out for long periods of time. This would cause a problem, because they could become a danger or a nuisance, by obstructing the footpath.
"In cases where bins were constantly left out for long periods, it is possible we could use the Environmental Protection Act to make people take their bins in. We wouldn't want to do that, but if bins are being left out for long periods, we probably would have to take action - but this would be a last resort."
'Fuss'
JJ Fairs, another Westleton resident, said: "[Cars] come past my front door doing at least 60-70mph and sometimes they're overtaking and it's ridiculous.
"I wouldn't take [the stickers] down - they'd have to come round and remove them from my bins."
David Fawcett, assistant central area highways manager for the county council, said: "The stickers are not up with our permission and essentially it's a situation of tacit tolerance, unless we become aware that crashes or some adverse effect is taking place so we need to intervene."
Enforcing speed restrictions was the responsibility of the police.
Tim Passmore, Suffolk Police and Crime Commissioner, said: "We are in a position of wanting communities to help themselves and, as long as it looks tidy and respectable and isn't too much of a distraction, I can't see what the fuss is about."