Leiston Abbey dig: 'Earspoon' and evidence of 'mill' uncovered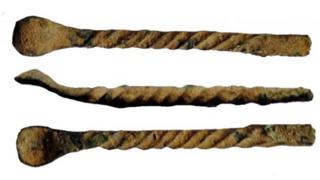 Archaeologists have revealed a dig at an abbey ruin unearthed a medieval "earspoon" and tweezers suggesting monks indulged in personal grooming.
Ninety people paid to take part in the Dig Ventures two-week excavation at Leiston Abbey, Suffolk.
The team found the small, thin spoon, believed to be used for cleaning ears.
Kezia Evans, community archaeologist, said: "People weren't bathing as much as we do now, but they tried to make sure their faces and hands were clean."
Participants searched for artefacts and information about the Premonstratensian abbey, which was founded at nearby Minsmere in 1182 before moving to Leiston in 1363.
It was suppressed in 1536 during Henry VIII's dissolution of the monasteries.
Industrical building
The project has also been hoping to uncover evidence of industrial activity at the abbey, such as a mill, which would have provided the monks with an income.
Analysis of the earthworks had revealed evidence of water being stored and moved around the site.
Ms Evans said: "What we have found is three large upright post holes in the field of earthworks which suggest a much larger timber structure, and we'll focus our attention on finding the rest of it next summer.
"We are two years into a five-year investigation - these items are giving us a greater understanding of the people who lived there."
Dig Ventures plans to return to the site in 2015, pending approval from site owners English Heritage.
Earlier this year, Dig Ventures revealed they had found what they thought was a curse tablet, made of lead, which was expected to contain a message when it was unrolled.
However, further research suggests it was a medieval loom weight, which the team said looked similar.