Port of Felixstowe announces plans for new warehouses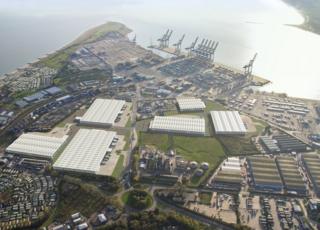 The Port of Felixstowe has announced plans to build 33 acres (13 hectares) of warehousing.
Hutchison Ports UK said it would be developed within the port boundary, near Berths 8 and 9 at the southern end of the quayside.
The project still needs planning permission. The company said it did not know how many jobs would be created.
The port is expecting to finish extending the quay at Berth 9 by 208 yds (190m) next year.
Clemence Cheng, chief executive, said: "The [new site] is less than 100m from berths eight and nine where we handle the world's largest container ships and only 500m from Trinity terminal.
"For both UK and northern European distribution, occupiers will benefit from the unrivalled range of road, rail and short-sea carriage available at Felixstowe."
Hutchison said it would be talking to developers about what sort of warehousing was needed before submitting a detailed planning application.
The company said it was too early to say when it hoped work would begin.
The port handles about four million TEUs (twenty foot equivalent containers) a year.