'Bronze Age burial site' in Suffolk spotted on Google Maps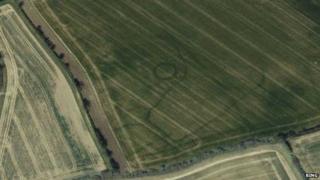 A metal detectorist has discovered a possible Bronze Age burial site while browsing on an aerial mapping website.
Gary Campion, 48, was using Google Maps when he noticed dark circles and lines in a field near Wattisham in Suffolk.
Suffolk County Council's archaeological service confirmed the markings were "very likely" to be mounds dating from the 3rd Century BC.
The site is on private land and there were no excavation plans at the moment.
The markings were in a field between the Army's Wattisham airfield and Bildeston.
Unexplored
Mr Campion said the aerial photograph showed what appeared to be two circular burial mounds within a larger ring ditch of about 100ft (30m) diameter.
"I was doing aerial research online to look for interesting places to get permission to go detecting when I spotted the darker circle," he said.
"I assumed it had been seen before, but I approached the Suffolk archaeological service and they were unaware of it.
"It was exciting, but we've got to wait to see if we can ever go on site and investigate further."
Dr Richard Hoggett, county senior archaeological officer, said: "The dark round feature is very likely to be the ploughed-out remains of a Bronze Age burial mound/barrow dating from 2300-700 BC.
"The surrounding enclosure is also likely to be prehistoric and may also be Bronze Age.
"It would be usual for there to have been a single central burial, which may have been accompanied by copper alloy, pottery or flint grave goods and very occasionally barrow burials contain precious metal objects."
Google's image of the field has since been updated with a photo which does not show the markings, but they can be seen on Bing.
Mr Campion had been metal detecting since 2003 and found a gold French Louis XII coin at Bredfield in Suffolk.