Anglian Water's £7m bill to clear sewers of foreign objects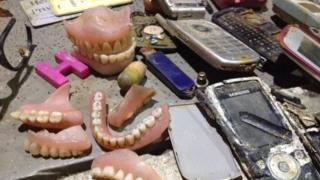 A regional water company has revealed it spends £7m a year clearing toys, false teeth and disposable wipes from its sewers.
Anglian Water said its treatment plants have to remove about a tonne of waste a day.
The firm said it had to pass the cost on to customers.
Its message was that only excrement and toilet paper should be flushed down the toilet and wipes should be put in the bin.
Emma Staple, spokeswoman for Anglian Water Services, said: "All that should go down is poo, pee and paper, but the main problem by a long stretch is disposable wipes which people put down the toilet instead of in the bin.
"It costs around £7m to clear all these things out of the sewage network.
"That does reflect in customers' bills and it's money that would be better spent elsewhere."